I'm InTouch Server Edition - Applications - Remote Technical Support/Helpdesk Solution
<< Back to I'm InTouch Server Edition applications list
Remote Technical Support/Helpdesk Solution
I'm InTouch Server Edition (SE) uses screen sharing technology to present any PC and all business applications running on it to you. The solution provides un-attended access to any PC or server that has the enabling software pre-installed on it and that is turned on and registered with the I'm InTouch Server Edition gateway server. PC's registered to the system can be operating on the internal LAN or can be those on the public internet - at branch offices, employees homes or customers premises located anywhere in the world.
Highlights
Secure - The I'm InTouch Server gateway securely deploys behind your firewall or within your DMZ and utilizes standard Internet ports 80 & 443 for all host to server communications, eliminating the need for port forwarding to reach hosts on the internal network.
Learn more about what makes I'm InTouch secure.
Web based remote access from any Internet browser, eliminating the requirement for technical support personnel to be sitting at a machine with a client pre-installed on it.
One-time purchase licensing, based on the number of PC's that you require remote access to. Cost-effective alternative to traditional pcAnywhere, Terminal Services, or Citrix Metaframe
Learn more by reviewing our Technology WhitePaper
Centralized system administration, allowing you to easily add, remove and manage hosts, and view usage reports on how often you have provided support services to particular customers or PCs.
See Administrators Feature Document
Highly scalable. The I'm InTouch SE server gateway brokers communication between the technical support person and the host desktop PC and provides all the required administrative functionality. Most processing is done at the host desktop. This unique "Distributed Processing" server architecture means that a single server can handle from 500 to 2,000 host PCs, depending on the specific server hardware configuration.
Easy Deployment – install the I'm InTouch SE server within your business premise, and add user accounts. By entering your employee or customer's email address within their account profile, the system will automatically invite users to set up their computer for remote access. They simply download and run the I'm InTouch enabling software onto their PC and within minutes can begin to use the system.

---
Key Features
My Desktop
The My Desktop feature of I'm InTouch allows IT support staff and help desk technicians to open and run any application that is resident on the target host computer from a remote location using a web browser. Commonly referred to as remote control functionality or screen sharing, after logging into the I'm InTouch SE system, a window opens with a view of the host machines desktop, including all the applications, files and networked drives. The support person can interact in real time with the host computer from anywhere in the world, as if they were sitting in front of if.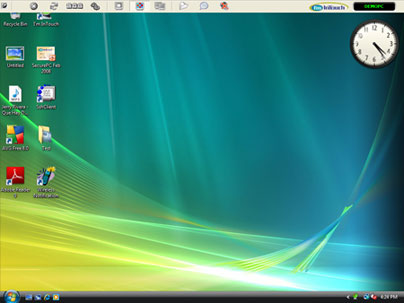 The Remote Desktop Viewer with advanced toolbar allows:
viewer sizing to your preference
the ability to send CTRL-ALT-DEL command to XP, 2000, 2003, Vista and Windows 7 host PC's
the ability to transfer files between PC's
the ability to cut and paste text between PC's
---
File Transfer interface within My Desktop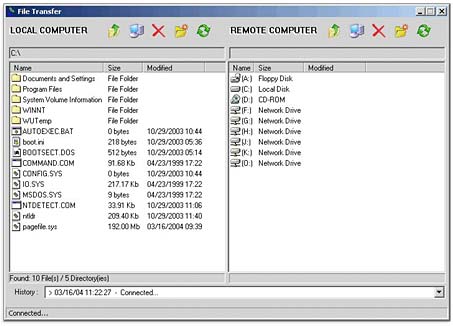 Provides the ability to transfer files between the local and remote host computer. User selects the file(s) they wish to transfer from either the Local or Remote Computer window pane by selecting the file(s) icon, and then drag and drop to the appropriate folder of either the Local or Remote Computer. You can select one or more files in the same folder. You can delete file(s) or create new folders on either of the two computers
See Features for a complete list of remote access features
Architecture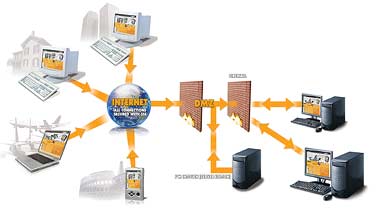 To learn more see Technology White Paper