How It Works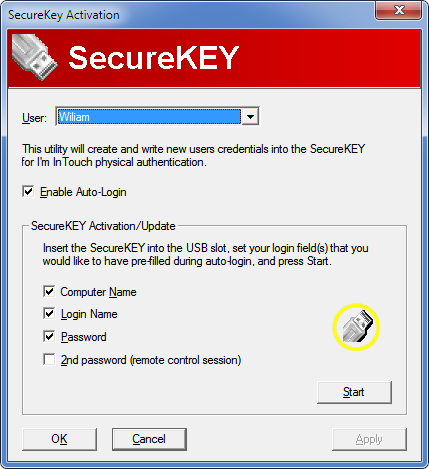 Activation
Insert your I'm InTouch SecureKEY into your I'm InTouch-enabled computer. An activation screen will automatically be displayed. Click "Start" to begin the activation process. When activation is done your I'm InTouch SecureKEY will be "uniquely registered with your I'm InTouch-enabled computer. In other words, no two I'm InTouch SecureKEYs are the same. After a successful activation you can safely remove your I'm InTouch SecureKEY and use it as your physical authentication device when you want to
remotely access
your I'm InTouch-enabled computer. See
Physical Authentication FAQs
for more details.
Optionally, I'm InTouch SecureKEY can be configured to remember your login password to give you a speedy connection if you have enabled "Auto-login" during activation.
What if I have lost my I'm InTouch SecureKEY?
Simply block the SecureKEY feature by logging into your I'm InTouch account and go to the "Physical Authentication" page. When you have received a new I'm InTouch SecureKEY you may re-activate it following the same activation steps. Since your old I'm InTouch SecureKEY has been "removed" from the I'm InTouch system, you can therefore log into your I'm InTouch account and safely re-enable the SecureKEY feature.