Point, Click, and Activate your I'm InTouch License

Activating an I'm InTouch license has neve been easier for users with multiple licenses under one administration account. The Administrator can login to his I'm InTouch account, click the "green downward arrow" to install/activate I'm InTouch on the computer he is using. Alternatively, he can send an activation email to another computer so that the recipient can click on it to install/activate I'm InTouch on his computer himself.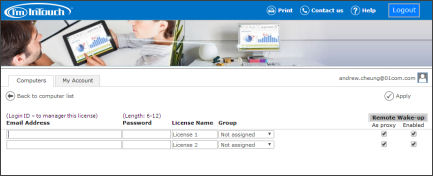 Get your I'm InTouch free trial if you are not a subscriber yet >>


Extend your Spring Getaway Break with our 50% Off Special!!

With the overwhelming response from our customers, we are extending our Spring Getaway special offer for our current subscribers.

As a valuable customer of I'm InTouch, you are invited to enjoy this special offer. For a limited time you can add new licenses to your current I'm InTouch account at 50% off our regular subscription price (i.e. $49.95 per additional annual subscription).
Please call our Customer Service at 1-800-668-2185 or click "Live-Chat" on our web site www.imintouch.com to enroll additional staff of your company to use our remote access service. Please mention "Spring Promo" to validate your special price.
Don't leave your office without I'm InTouch!

Get your I'm InTouch free trial if you are not a subscriber yet >>

Provide World-Class Live-Chat Technical Support to your Customers using I'm OnCall

I'm OnCall gives you 3 URLs that you can easily incorporate onto your web site in minutes and let you provide Live-Chat support to your customers immediately.
Following are the highlights of I'm OnCall:
- Using Live-Chat your support team can virtually work anywhere
- Get temporary remote control of your customers' computers
- Incidents and History logs
- End-users rating for agents at the end of a support session
- Unattended reboot
- Reboot into "Safe Mode"
- Shareable licenses (Unlimited number of agents can share one license)

Get your I'm OnCall free trial if you are not a subscriber yet >>


How do I setup a live-chat support feature for my web site using I'm OnCall?
It is a very easy job. All you need to do is:
1) Login to your I'm OnCall account as the Administrator;
2) Click "Admin" and go to the "Queue Messages" section;
3) Enter a name you want for your Live-Chat queue (e.g. my_company_aftersale)
4) Enter the messages to display when the office is open/close;
5) Click "Apply";
6) Now <https://imoncall.01com.com/my_company_aftersale> is the URL that I'm OnCall has designated for you. Simply embed this URL onto a "Live Chat" button on your web site.

When your customers click on your "Live Chat" button they can submit a request to chat with your customer service agents.