Features
Unlike other mobile mailbox services, I'm InTouch GoMail lets you keep your emails on your computer. Your data will not be duplicated onto your mobile device or any cloud storage. This not only maximizes your data security/privacy but also eliminates third party cloud storage fee.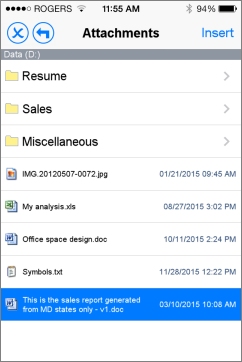 Handling of Attachments on your mobile device is finally a reality. Using I'm InTouch GoMail you can insert attachments from your computer's local/network drives or save inbound attachments in the same way without having to leave them on any third party's cloud storage.
Since all your files are 100% staying within your premises you can rest with the peace of mind that your confidential data is save and private.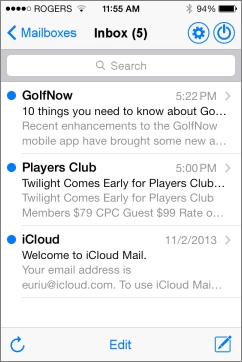 Real-time Operation
ensures every
remote access activity
you are doing on your I'm InTouch GoMail (e.g. composing a new message, replying a message, etc.) is concurrent with your Outlook. For example, after reading a message it will be marked as "read" on your Outlook at the I'm InTouch-enabled computer. From the same token, replying a message from your mobile device will actually be sending it out via Outlook at your I'm InTouch-enabled computer and therefore will be logged in the "Sent Items" record thereafter.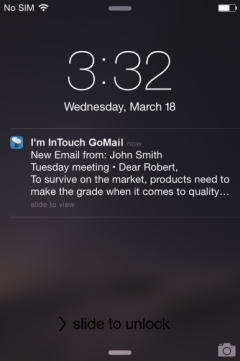 Notification
to your mobile device is real-time. When a new email is received by Outlook on your I'm InTouch-enabled computer an instant notification message will be sent to your mobile device. Simply click on the notification, I'm InTouch GoMail will automatically access your Outlook to open the message for your further actions such as read, reply, forward, delete, etc.
You may even configure I'm InTouch to send notification only when emails from certain senders are received. This means you will not be bothered by unimportant messages.